Chia is practically fat-free and protein-rich. Add that with great fat content and refreshing taste from coconut. Mix in berries for sweet and fruity taste without the carbs.
Preparation Time
Overnight
Serves 2 person
300 ml (10 oz) coconut cream
125 ml (4.2 oz) water
40 g (1.4 oz) chia seeds
50 g (1.8 oz) mixed organic berries
¼ cup (2 oz) fresh coconut meat
Step 1
In a bowl, mash the berries using a fork.
Step 2
Pour in the fresh coconut cream and water. Mix well.
Step 3
Mix in the chia seeds and sweetener. Mix well for around 2 minutes with a spoon.
Step 4
Chill in the refrigerator overnight to set.
COOKING TIP
Get Your Knives Professionally Sharpened
You may have a steel or a sharpener at home, but once a year, get a pro to revive those knives. Your chopping will get faster, more precise—and, believe it or not, safer.
Other Recipes you may like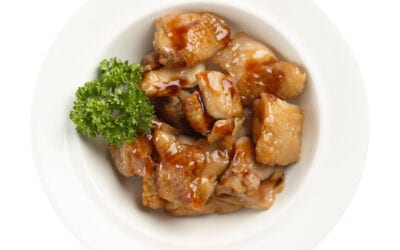 Sweet, salty flavors that you can savor in one dish! Tender chicken bits flavored with umami teriyaki. Add into the mix some fresh spices. The coconut vinegar will add an extra kick to this dish that is stir-fried to perfection. Difficulty Medium Cooking Time 20...