Flavors that are low carb yet and easy to devour.
Quick and easy to cook and eat. The sweet flavors of crab mix well with the crunch and juiciness of zucchini. Topped with a cheesy and creamy layer.
Preparation Time
15 minutes
Serves 4 people
2 zucchini (20 g / 0.7 oz each)
1 tbsp (1 oz) olive oil
75 g (2.6 oz) celery stalks
1 red bell pepper (10 g / 0.35 oz)
350 g (12 oz) fresh crab meat
175 ml (5.9 oz) mayonnaise
1 tbsp (0.5 oz) Dijon mustard
200 g (7 oz) shredded cheddar cheese
salt and pepper
COOKING TIP
Get Your Knives Professionally Sharpened
You may have a steel or a sharpener at home, but once a year, get a pro to revive those knives. Your chopping will get faster, more precise—and, believe it or not, safer.
Step 1
Prepare your oven for baking at 450°F/225°C.
Step 2
Slice the zucchinis into half lengthwise. Season with salt. Set aside for 10 minutes.
Step 3
Chop the celery and bell pepper finely. Season with salt and pepper.
Step 4
In a bowl, mix well the vegetables and the other ingredients.
Step 5
After 10 minutes, pat dry the sliced zucchinis with a clean paper towel.
Step 6
Place a baking mat over your baking sheet.
Step 7
Place the zucchinis in the tray and coat with olive oil.
Step 8
Scoop some mixture and stuff into the zucchinis boats, filing 2/3 part of it.
Step 9
Bake for 20 minutes.
Step 10
Remove from the oven, cool a bit and serve.
Other Recipes you may like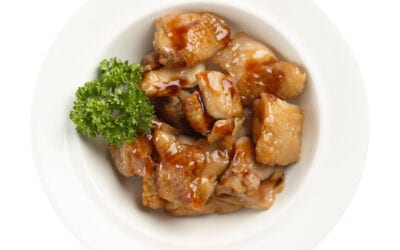 Sweet, salty flavors that you can savor in one dish! Tender chicken bits flavored with umami teriyaki. Add into the mix some fresh spices. The coconut vinegar will add an extra kick to this dish that is stir-fried to perfection. Difficulty Medium Cooking Time 20...