It's so good that you will forget it's keto!
Fresh bananas are used in this recipe but no added sugar, so it's safe for keto. It's enjoyable moist with a crumbly cookie layer. Don't forget to scoop some delicious cream.
Preparation Time
10 minutes
12 Servings
For the cookie layer
2 tbsp (1 oz) butter
1 tsp (0.16 oz) vanilla Extract
1 egg
1/2 cup (4 oz) Super Fine Almond Flour
1 tsp (0.16 oz) Baking Powder
1/4 cup (2 oz) Confectioners Erythritol
For the pudding layer:
2 cups (16 oz) Heavy Whipping Cream
1 cup (8 oz) unsweetened coconut milk
2 tsp (0.33 oz) vanilla Extract
6 Egg Yolks
1/2 cup (4 oz) confectioners erythritol
1 Medium Banana very thinly sliced
For the whipped cream layer:
1/2 cup (4 oz) Heavy Whipping Cream
1 tsp (0.16 oz) Vanilla Extract
1/4 cup (2 oz) Confectioners Erythritol
1/4 tsp (0.04 oz) Xanthan Gum
COOKING TIP
Get Your Knives Professionally Sharpened
You may have a steel or a sharpener at home, but once a year, get a pro to revive those knives. Your chopping will get faster, more precise—and, believe it or not, safer.
Step 1
Prepare your oven at 177°C/350°F
Step 2
Using an electric mixer, cream the butter. Then add the vanilla and egg. Mix for 2 minutes.
Step 3
Mix the erythritol, flour, and baking powder. Mix for another 2 minutes.
Step 4
Place a baking mat over an 8″ x 16″ baking sheet.
Step 5
Spread the mixture evenly on the baking sheet.
Step 6
Bake for 15 minutes and set aside to cool.
Step 7
Make the pudding by mixing the heavy cream, almond milk, vanilla and erythritol in a sauce pan. Heat the mixture over medium heat and stir to it won't burn. Heat for 3 minutes and set aside.
Step 8
Place the egg yolks into a bowl and whisk in 1.5 cups of the warm cream. Whisk for 1 minute.
Step 9
Place the whisked egg mixture back into the saucepan and cook over medium heat for 3 minutes. Stir with spatula. Remove from heat and set aside to cool
Step 10
Cut the baked cookie layer into 1-inch cubes.
Step 11
Cut the banana into thin slices and set aside.
Step 12
Assemble the pudding by placing a layer of ½ cup pudding, cookie layer cubes, sliced bananas, then again with ½ cup pudding. Repeat until all ingredients are used up.
Step 13
Chill and set in the fridge for at least 2 hours.
Step 14
After setting the pudding, make the cream layer by mixing all ingredients with electric mixer for 3 minutes. Spread evenly on top of the pudding. Slice and serve.
Other Recipes you may like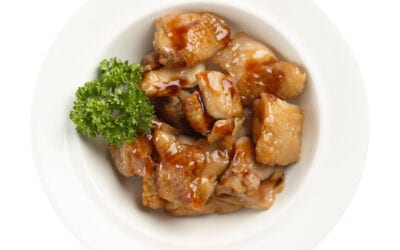 Sweet, salty flavors that you can savor in one dish! Tender chicken bits flavored with umami teriyaki. Add into the mix some fresh spices. The coconut vinegar will add an extra kick to this dish that is stir-fried to perfection. Difficulty Medium Cooking Time 20...