Warm and tender fish dish all buttered up.  Made even more delicious with melted cheese and garlic sauce on top.
Preparation Time
45 minutes
Serves 2 people
12 ounces cod (340 g – cut into 4 fillets of 1-inch thick each)
1/3 cup (2.4 oz) grated parmesan cheese
1 tbsp (0.5 oz) chopped fresh parsley
1/2 tsp paprika
1/4 tsp table salt
For the sauce:
4 cloves garlic, minced
1/4 cup (2 oz) dry white wine
2 tbsp (30 ml) fresh lemon juice
1 tbsp (0.5 oz) salted butter
COOKING TIP
Get Your Knives Professionally Sharpened
You may have a steel or a sharpener at home, but once a year, get a pro to revive those knives. Your chopping will get faster, more precise—and, believe it or not, safer.
Step 1
Pre-heat your oven at 180°C/350°F.
Step 2
Pat dry the sliced fillets and season each side with salt and paprika and set aside.
Step 3
Find a skillet that will fit the fillets and fit inside the oven.
Step 4
Melt the butter in low heat using the skillet.
Step 5
Toss the minced garlic and sautee in the butter for 1 minute.
Step 6
Pour in the white wine and mix with the garlic butter mixture. Keep the heat low so the wine won't boil.
Step 7
Add the fillets and squeeze the lemon juice all over them.
Step 8
Baste the butter sauce over the fillets for 1 minute or until all the fillets get entirely covered with the sauce.
Step 9
Put the grated cheese on top of the fillets evenly and put in the oven to cook for 20 minutes.
Step 10
Remove from the oven, plate separate with the sauce.
Other Recipes you may like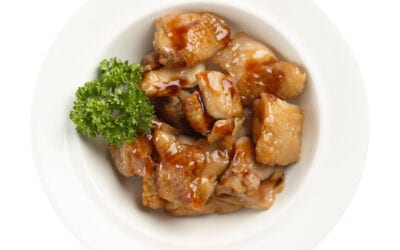 Sweet, salty flavors that you can savor in one dish! Tender chicken bits flavored with umami teriyaki. Add into the mix some fresh spices. The coconut vinegar will add an extra kick to this dish that is stir-fried to perfection. Difficulty Medium Cooking Time 20...